*
Buffy 6.13: Dead Things
…but clearly not so disgusted that you won't still bang Spike like a screen door in a thunderstorm.
Okay, you guys have legitimately been having sex for a few weeks, maybe a month; you'd think it'd be okay for him to see Buffy's boobs when they're not actually, y'know, doing it.
If you think about it, Spike probably taught Buffy all the really good parts of sex. Riley was probably normal missionary guy, maybe girl-on-top, but Spike is a lot more fun.
Not that normal missionary sex is bad. It's not. It's actually pretty awesome.
I do like the subversion of the trope where Buffy wants it to be just sex and Spike wants a relationship.
Yay! It's the magic bone!
That silver thing looks a lot like a buttplug.
Yes, okay, we're supposed to think that Warren's going to want to sleep with Buffy.
I think Buffy and Tara would've been a cute couple.
Does no one notice the earbud in Warren's ear?
Okay, yes, Warren is a jerk… but he probably wasn't such a jerk when you met him.
Where would Buffy have found time to change?
Kind of late to be heading over there, yes?
I like the little twitch in Katrina's right hand and the tightness in her jaw.
I get that Jonathan and Andrew are not nice people (at this point), but even they have to realize that this is a massive consent violation.
In fact, a good chunk of this season is just consent violations all over the place.
Adam Busch has some serious chest hair.
Gotta make a prison rape joke, don't we. ~sigh~
That thing Warren hit her with shouldn't have broken the skin. If she'd died, it should've been from a cerebral hemorrhage.
Interesting how Jonathan is more worried about Buffy than prison.
Oh, yeah, this was about the time when swing dancing made a brief, desperate comeback. Really glad that didn't last.
Ha. Ha. Ha. A bondage joke.
This episode aired in early February, which means Buffy's 21 now. So at least she can get legally drunk if she wants to.
Seriously, Spike? You're going to have sex with her up there? On the catwalk?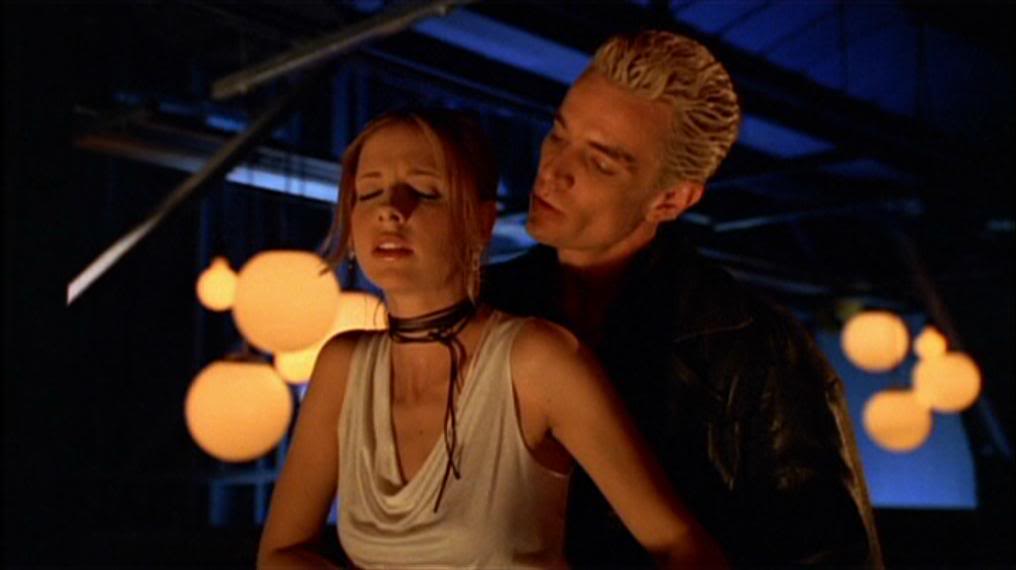 It's been a month? It doesn't feel like a month.
Is this music by Bush? (Yes. Soundhound says it is.)
You could focus on THAT evil bloodsucking fiend instead.
It's not really cold enough for Buffy to need gloves.
Not gonna lie… this is actually a really good plan on Warren's part.
Yeah, we all knew that was Jonathan. No need to draw it out.
I do like Jonathan's expression of disgust, though.
Handcuffs are super uncomfortable. I'd think Spike would go with wrist straps.
Okay, so, the monologue was shot, and then the punches were shot. It's pretty obvious from the different looks on Buffy's face.
This episode didn't have a really conclusive ending — like, it didn't wrap up in the way that other ones did.
Powerful final scene though.