*
Buffy 5.15: I Was Made To Love You
The Netflix preview frame for this episode looks like the robot giving Warren's girlfriend CPR.
The "previously" for this episode seems to be covering a LOT of stuff that's not related to this episode — specifically all the Riley parts. I wonder if this episode aired after a long break. But that's not the case. (The long break came after "The Body".)
I don't understand the point of the puffy suit. Why couldn't Buffy just whale on a punching bag, because really that's all Xander is in that thing.
I guess the point was to make Xander look ridiculous while saying important stuff to Buffy.
Where did Giles go?
"This is the day you choose to hug me?"
And yet Xander is happy with Anya, and Tara is with Willow.
I noticed there's no bell in the ending of the credits of this episode.
"You're messing with me."
It's not a great dress, Joyce. You look nice in it, but the print doesn't work.
I read a GREAT fanfic based upon what happens between Joyce and Brian. Let me see if I can find it. (update: couldn't… sorry…)
There's a lot of background noise in this scene. I'm not sure if that's intentional or they just ran out of time to clean it up.
Technically the guy Buffy was dating in the movie counts as a boyfriend, doesn't he?
"I'm 1100 years old. I had trouble adjusting to the Lutherans."
"I go online sometimes, but everyone's spelling is really bad. It's depressing." — I wonder if this was a dig at online fan boards.
Sometimes I think the writers just throw characters together to have little chats like this in the same way that the Warehouse 13 writers kept changing up the teams on the show — to see what happens.
That dude sitting on a bench is normal, but the bench itself is oddly-placed. Anya and Tara are walking through a neighborhood, I think. Why would there be a random bench nowhere near a park.
Anya's clothes were much nicer earlier in the afternoon. That shirt she's wearing is ridiculous.
That limbo contest behind Ben looks so out-of-place.
"Well, these are orthopedic pants."
Anya's being impressed with Chex is hilarious.
First appearance of Warren.
Seriously? They're pulling this crap with Xander thinking this other girl is pretty when he's RIGHT NEXT to Anya. Why are we doing this?
Tara's wearing a very nice top, but it reveals a lot of her back. I wonder how people wear bras when showing off that much of their backs.
Oh, come on, Tara. Why so offended? You're not usually that way.
That was a good line, Ben. Excellent job.
"Fella". Because people say that.
Nor was that James Marsters. The prop that April threw was far too floppy to be a human body. Even a stunt-person's human body.
I believe the camera was slowed down as Buffy flew through the air. She didn't move at the right speed as she fell.
"I've had it with super-strong little women who aren't me."
First, and only, mention of Uncle Dave.
Warren isn't THAT unusual of a name. I knew one in elementary school.
It's nice that Giles isn't jealous of Joyce dating someone else, given that there was some interest there and they do have a history. And, I mean, let's be honest: Joyce and Giles would be a good pairing.
Dating is NOT fun.
That bra thing was hilarious. Great writing.
How can there be not a single Warren at UCSD.
This episode is actually quite humorous.
That scarecrow dummy in the training room is rather creepy.
Katrina focused on the wrong thing with what Warren was saying. We're supposed to think he's weird but freaked out, and not just that he was being a dick (which he generally is).
Ooooooh… nice callback to Ted.
How did Spike's blanket catch on fire if his jacket isn't on fire?
This scene between Giles and Spike drove so very much bad "Giles is actually Ripper" fanfic — and a lot of good stuff too, but it's overdone. WAY overdone.
I'm sorry, Warren, but in those pants you don't deserve anyone.
"She was exactly what I wanted, and I didn't want her." That's an interesting observation.
Dude, Buffy, magnetic trains are awesome.
I think the director and writer waited too long to show things from April's POV.
"Obstacle was misspelled."
Okay, April using a weapon is just silly. She's a robot. She doesn't NEED a weapon.
Also, didn't April break Katrina's ribs? How is she breathing so easily? And running?
The actress (robot) was smiling when she ran down, but in the long shot she's not.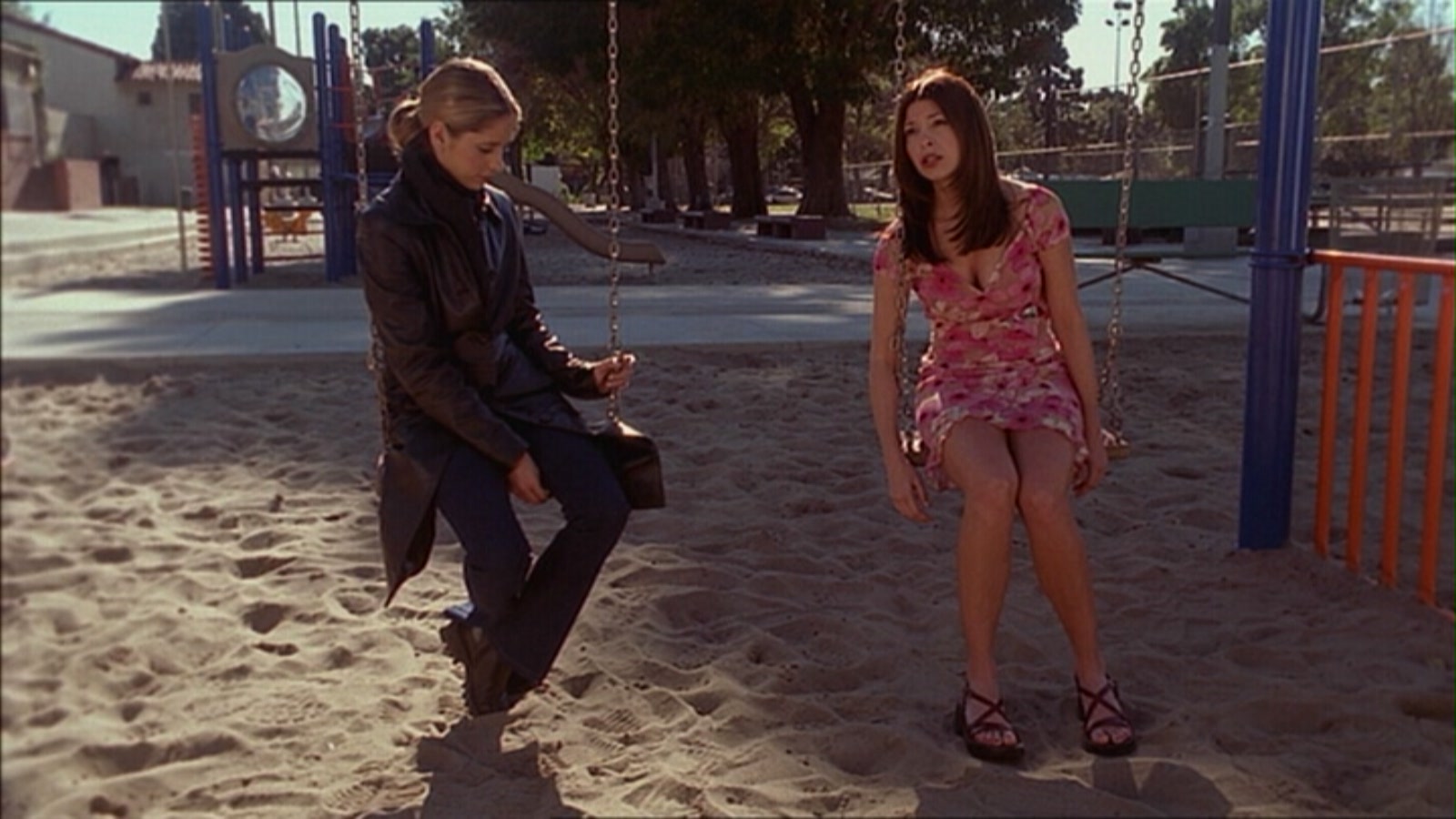 "Robots are the strangest people."
"No. People are the strangest people."
I wonder what happened to Brian.
Oh. Shit.
Just that one shot of Joyce on the couch… is all we needed for the next week (back in the last decade) to be the worst week ever. Well, not for me, because I didn't watch the show when it aired, but you get the idea.